We began this post a couple of months ago. We've written thousands of words about whom we would, and would not, vote for if we had a Hall of Fame ballot. For the sake of our readership, we've decided to strip this down to the bare minimum. For example, how long would you stay on this site if 3,000 words in, we start getting into why we wouldn't vote for
Ray Durham
?
This is a different ballot than we've ever seen. Not only is it overstuffed, with more than 10 deserving candidates, we have the moral dilemma of decided what to do with steroid users, suspected users, and if it makes sense to keep steroid users out of the Cooperstown when the Hall already honors racists, amphetamines users, coke heads, and wife beaters. I don't know about you, but if I had a son, I'd rather he grow up to use steroids than beat his wife.
That being said, I do not support the Hall of Fame induction of
Barry Bonds
or
Roger Clemens
. It's not so much because of the steroid use as their natural state of being sleazy, lying jerks.
Enough with that, this is supposed to be fun, and we're going to have fun. As Clark W. Griswold said, we're going to have so much fun, we'll need plastic surgery to remove the goddam smiles from our faces.
Quickly, as this is our fifth year of publishing an imaginary ballot, here is a recap of our past votes...
That's a Hall of Fame Smile
2010
Bert Blyleven
Tim Raines
Roberto Alomar
Barry Larkin
Edgar Martinez
Alan Trammell
Andre Dawson
HOF
Fred McGriff
Andre Dawson was the only player from our ballot to get it in. So the following year, it was easy to add newcomers
Jeff Bagwell
,
Larry Walker
, and
John Olerud
to the seven remaining players.
2011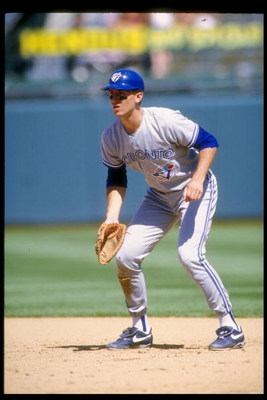 Olerud has a nice case.
Bert Blyleven
HOF
Tim Raines
Roberto Alomar
HOF
Barry Larkin
Edgar Martinez
Alan Trammell
Fred McGriff
Jeff Bagwell
Larry Walker
John Olerud
Blyeleven and Alomar got the nod this year, but Olerud fell off the ballot for failing to reach 5% of the BBWAA vote. Players to appear on the ballot for the first time the following year, in 2012, made little-to-no impact on the voting. In fact, only
Bernie Williams
received more than 5% of the vote in 2012, but he only stayed on the ballot for one more year, falling below 5% in 2013. We did not "vote" for him either time he was on the ballot. As foreign as a concept as this seems now, 2012 was the last year we had fewer than 10 names on our list...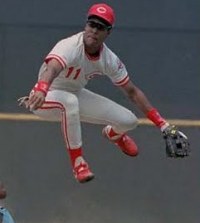 Larkin was a Hometown Hero
2012
Tim Raines
Barry Larkin
HOF
Edgar Martinez
Alan Trammell
Jeff Bagwell
Larry Walker
Larkin graduated in 2012, but no-one received 75% in 2013...
2013
Tim Raines
Edgar Martinez
It's a shame Kenny Lofton
didn't get 5% of the vote
Alan Trammell
Jeff Bagwell
Larry Walker
Craig Biggio
Kenny Lofton
Fred McGriff
Mike Piazza
Curt Schilling
Looking back, the only player we've waffled on is Fred McGriff, who received our support in odd numbered years. Over the past few years, we've given strong consideration to
Don Mattingly
,
Dale Murphy
and
Dave Parker
. Plus, it would've been nice to vote for
Al Leiter
as a tip of the cap in 2011.
Moises Alou
is in the same position this year. We love Moises Alou. Having watched them both play hundreds of games, I'd say there's a great case that Moises Alou was a better player than
Sammy Sosa
. Alou would have absolutely received a gratuitous "vote" if fewer than 10 players deserved actual consideration this year. That is not the case. This year's ballot is jam packed. Even if voters say "no" to anyone with a whisper of drug rumors, there are more than 10 good candidates. There's no good excuse for having a ballot with fewer than ten names in 2013.
There are lots of places to read why someone did/didn't vote for everyone on this year's ballot.
The best explanation we've seen this year is from Ken Rosenthal on Fox Sports
. Our ballots don't totally agree, and I rarely link to Rosenthal because he's just not in my personal inner circle of writers. But, the explanation for his ballot is so clear and reasonable that he almost took 80% of the words right out of my mouth. In fact, most of our thoughts on these players are echoed in
what we wrote last year
. Straying from our normal form, let's avoid
some
redundancies and get straight to our 2014 "ballot"...
Greg Maddux was the best.
- Jeff Bagwell
- Greg Maddux
- Edgar Martinez
- Mike Mussina
- Mike Piazza
- Tim Raines
- Curt Schilling
- Frank Thomas
- Alan Trammell
- Larry Walker
For argument's sake, our most difficult were
Tom Glavine
and Craig Biggio, and our weakest support probably went to Alan Trammell.
The good people at Baseball Think Factory publish a
Hall of Fame Ballot Collection Gizmo
that provides a preview for what we may see when the results are announced in a week and a half.
The most fun we can have on this topic is in the discussion. Please let us know what your Hall of Fame ballot would look like in the comments below,
on Twitter
, or if we see each other in person.