It's been well documented that Albert Pujols is struggling to adapt to the American League. Most of us know he has yet to hit a homerun. After a base on balls in the 8th inning of tonight's game, he's currently in an 0-19 slump - the worst hitless streak of his career. His current batting average (.222) is lower than the millions of dollars on his contract ($240,000,000).
Small sample size and all that, but Fangraphs shows Albert Pujols has also been the worst base runner in the game this year: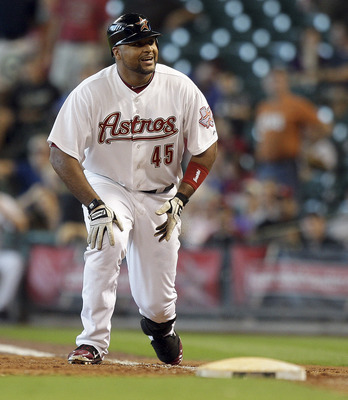 Being a worse base runner
than El Caballo ain't easy.
Albert Pujols
-2.5 BsR
Carlos Lee
-1.9 BsR
David Ortiz
-1.8 BsR
Jason Kubel
-1.6 BsR
Nick Hundley
-1.4 BsR
Nick Swisher
-1.4 BsR
Jaime Garcia
-1.1 BsR
Ramon Hernandez
-1.1 BsR
Buster Posey
-1.0 BsR
Justin Smoak
-1.0 BsR
Albert Pujols is too talented to struggle this mightily for long. He'll probably hit 10 homeruns in May, and still hit over 30 on the year. After adjusting to the league, he will most certainly have a better 2013 season. As a Cubs fan, subjected to rooting for the proverbial doormats of the National League, the only thing that would make Pujols's struggles more gratifying is if he were still on the Cardinals.
Now batting: Albert Pujololololols